Description
Crown Jewel Of The North
Build a home where history begins. On the highest elevation in San Rafael, where the natural rolling terrain cradles the cool afternoon wind, and gives rise to softly undulating fairways.
Brilliant sunsets will color the end of each day, and the new morning will dawn to give you a view of expansive greens and beds of bright-colored flowers.
Celebrate happy times with the family. A relaxed stroll around the community. A picnic with the little ones on the children's playground. A poolside birthday party. Come in for a golf challenge, a weekend basketball game, a tennis match, or a regular workout day. Enjoy a leisure time at the clubhouse, make unforgettable memories at a one-of-a-kind resort.
Click the link to download
The Royal Northwoods Project Presentation
or scan QR Code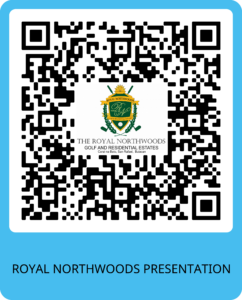 Project Documents